We interrupt our regularly scheduled blogging for an important announcement:

I gots a prezzie today! Woo hoo!
I went downtown today to run a few errands and while I was there I picked up my mail.  I was surprised to see a yellow card in my box, I really wasn't expecting anything.  
(In this town, getting a "yellow card" in your box with the rest of your mail means, "Hey you!  You've got something too big for us to fold, crumple, and squeeze into your little post office box. So hustle your bustle up to the window and get it!")
It was lunch time in the land of the worker bees and the line to the post office window was a little long.  Normally I'd have figured it was just a fat catalog and let it wait for another day. But I was picking up someone else's mail also, and they had a yellow card too.  So I pulled out my knitting and got in line.
(I do this at the bank also - it helps!) 
To my great surprise the nice post office lady handed me a package with a familiar name on the return address.  My ravelry friend and wonderful assassin,
Jamie
!  I mean, I already scored a beautifully knitted hat with an extra special touch 
(this is no small thing, I got very lucky - many hat attack participants were not experienced knitters and along with those new to dpns, long-tail cast on, and/or cables, there was a virtual epidemic of "teeny tiny beanie syndrome")
 - what else could she be sending me?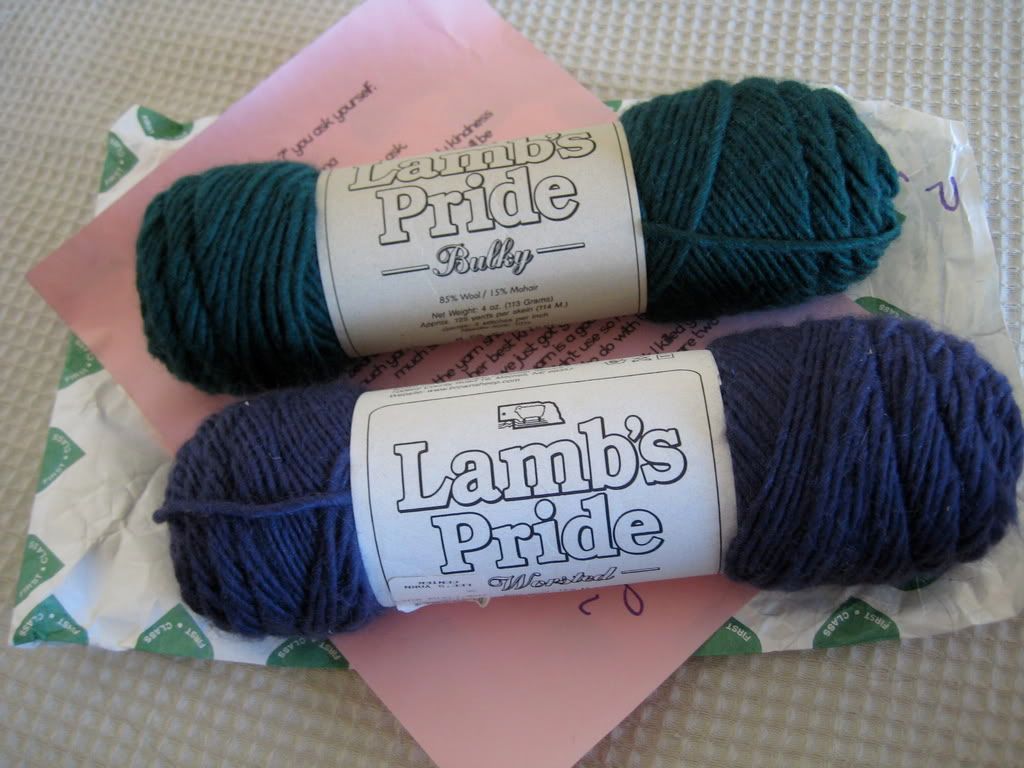 That is not just one, but two skeins of Lamb's Pride!  Squeeeee!!! A purple/blue worsted and a green bulky.  I can't think of any shade on the purple to blue spectrum that I wouldn't love and that green?  So perfect to go with either of the two cold weather jackets I usually wear - the green one or the brown one.  And oh, if I could find a pattern to double strand it with the brown bulky LP I picked up at Stitches??? Mmmmmm......'scuse me, I'm startin' to drool.
(And that's bad for my laptop.)
She included a really nice, funny note explaining her theory of Yarn Karma
(the woman had bedrooms full of yarn - really???)
and why she sent it, including my recent b-day. I like the idea of yarn karma and I've always been a big believer in the idea of karma in general. Or in my way of looking at it - you get out of it what you put in and people get what they deserve.  Works for me, and if enough other people thought the same, the world could really be a friendlier, nicer place - doncha think?
On any given day, I already feel incredibly blessed and fortunate. But something like this?  A scoop of sweet creamy vanilla ice cream on the delicious tasty pie that is my life.