So what was I saying? Oh yes, I drove 371 miles up to Santa Clara yesterday. Or to be more accurate, I spent the whole day traveling up to Santa Clara. And it was a very loooonnnnnggg day.
I left my house at 7:30am in a taxi, left the island on the 8:ooam boat to San Pedro, took the shuttle bus from San Pedro to Long Beach at 9:30, and at 10:00am I got behind the wheel and started driving. And driving. And driving. And driving. And driving. And...you get the idea.
The weather was pretty decent most of the way with just a few occasional dark clouds and sprinkles. But right after the I5 reduces to just 2 lanes in either direction there was just one really unpleasant 30 minute period of time where the sky opened up and dumped buckets, lightning flashed and the whole thing went to crap in a heartbeat. And of that, there was about 15 minutes of time spent clutching the steering wheel and questioning my sanity.
(What the frackin' hell am I doing on this road? Oh god, that semi is just gonna wash me. Oh god, where the frackin' hell IS the road?)

Not long after that little episode I found a place to get out and stretch my legs. The Buttonwillow/McKittrick rest stop: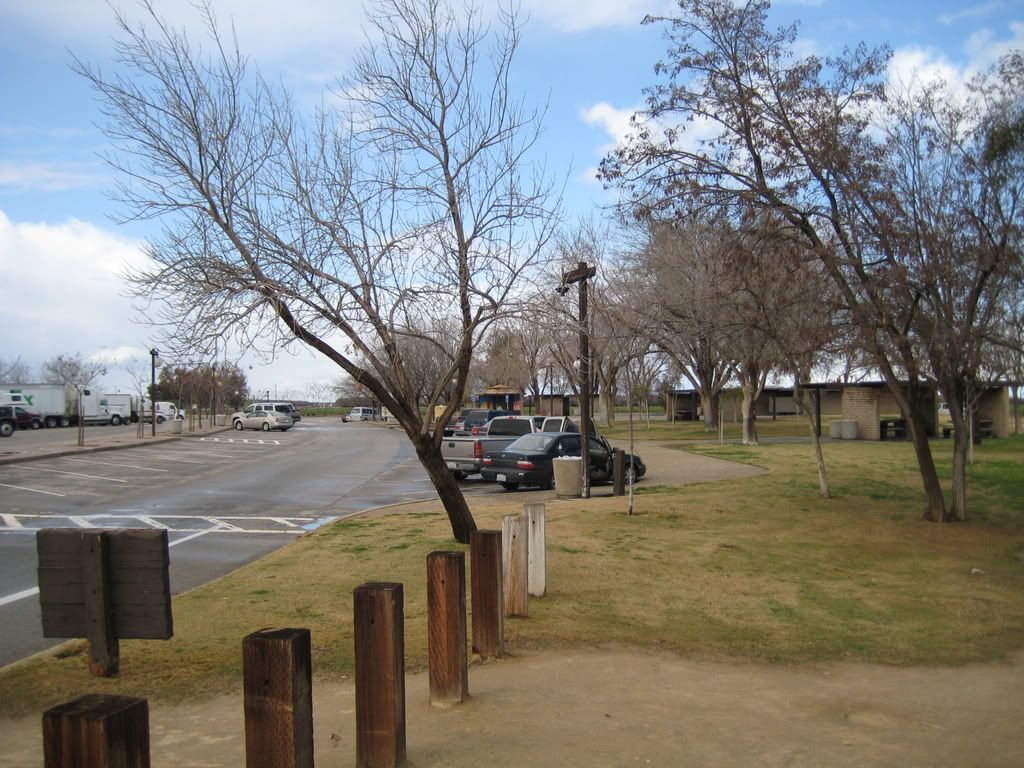 The name alone is worth it, but then I heard the sounds coming from the field next to the rest stop and just knew it was meant to be: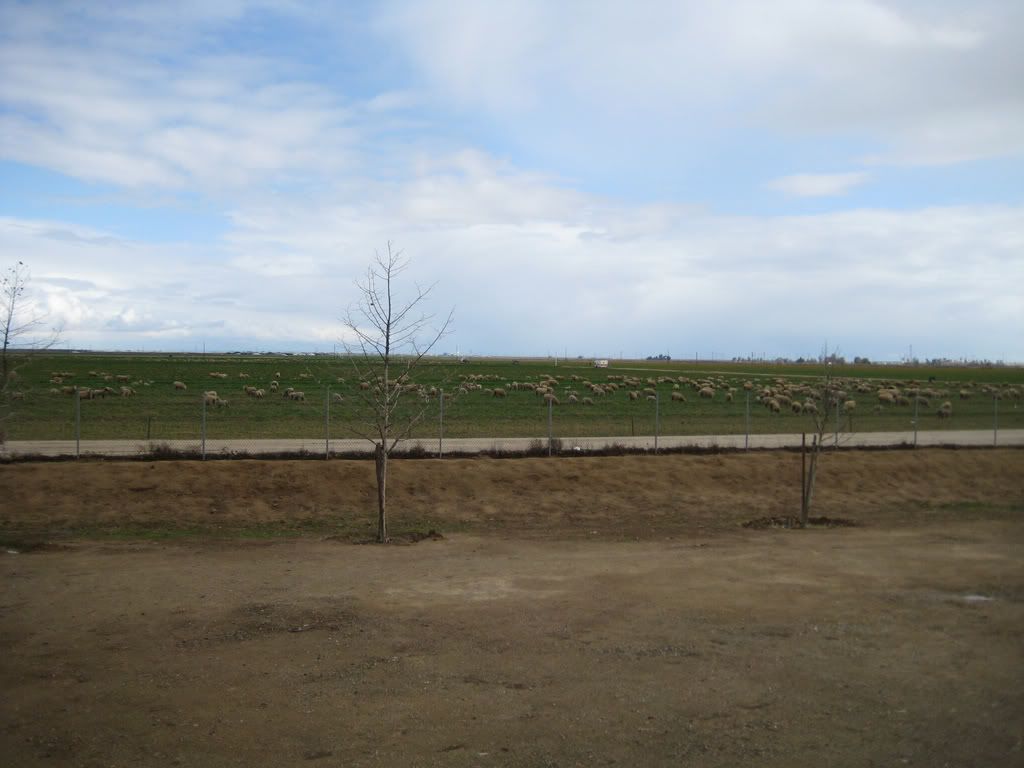 Talk about good omens! I mean, just check out these bad boys:
That's a whole heck of a lotta wool walking around out there!
(Here sheepie sheepie...nice sheepie sheepie...)

Once I got back on the road it was basically just miles and miles of Interstate, and it all looks very much like this: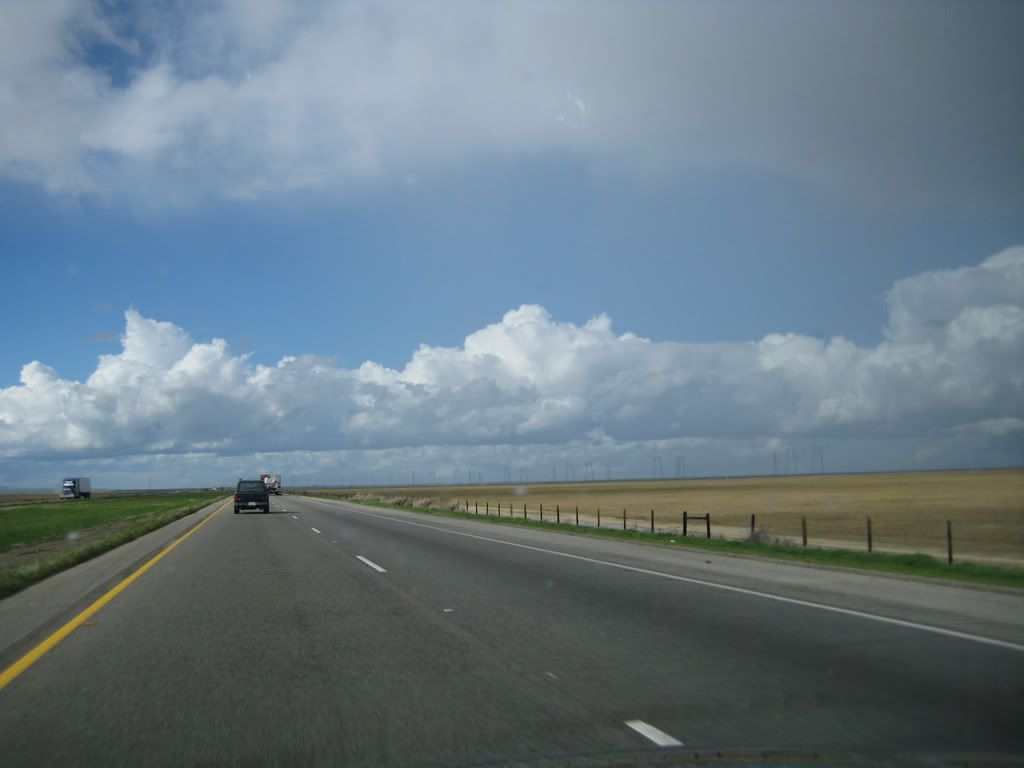 By 2:30 I was ready for another stop, both the truck and I needed refueling, so I exited the I5 at Coalinga and quickly found the
Harris Ranch Inn and Restaurant
: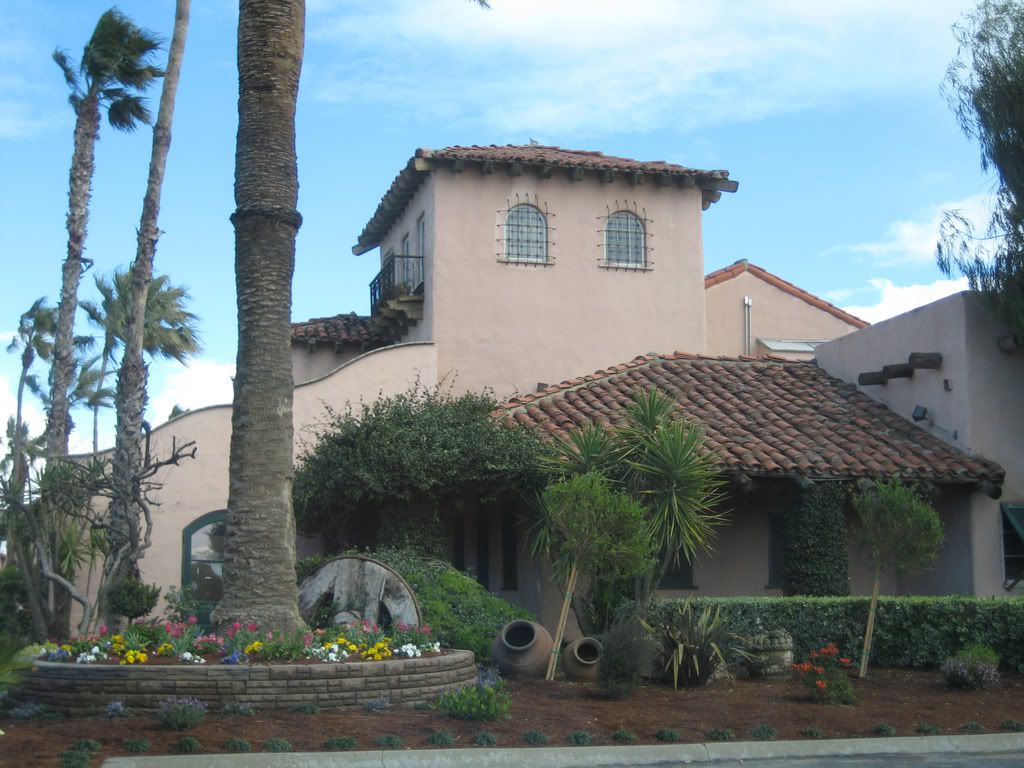 My friend told me I should stop and check it out and mentioned that it might be a good place for lunch. But as I pulled into the parking lot a large group of rather well-dressed people were entering the restaurant
(looking very wedding-ish)
and I was awfully grubby so I passed it by. As I exited the parking lot, I was pleased to see that should passing travelers suddenly decide that a miniature tree would be the perfect souvenir, their wishes could be easily accommodated: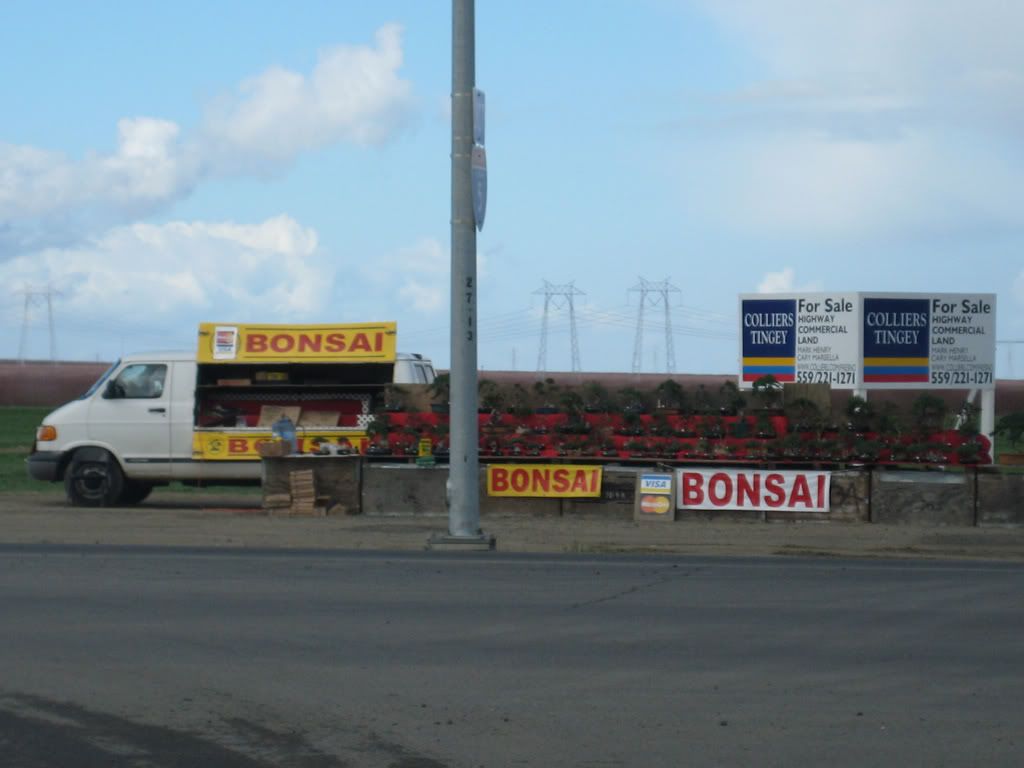 ('Cause you know an itty bitty maple is just gonna impress the heck outta the folks back home.)

As I expected my lunch stop was awaiting me right across from the Chevron station: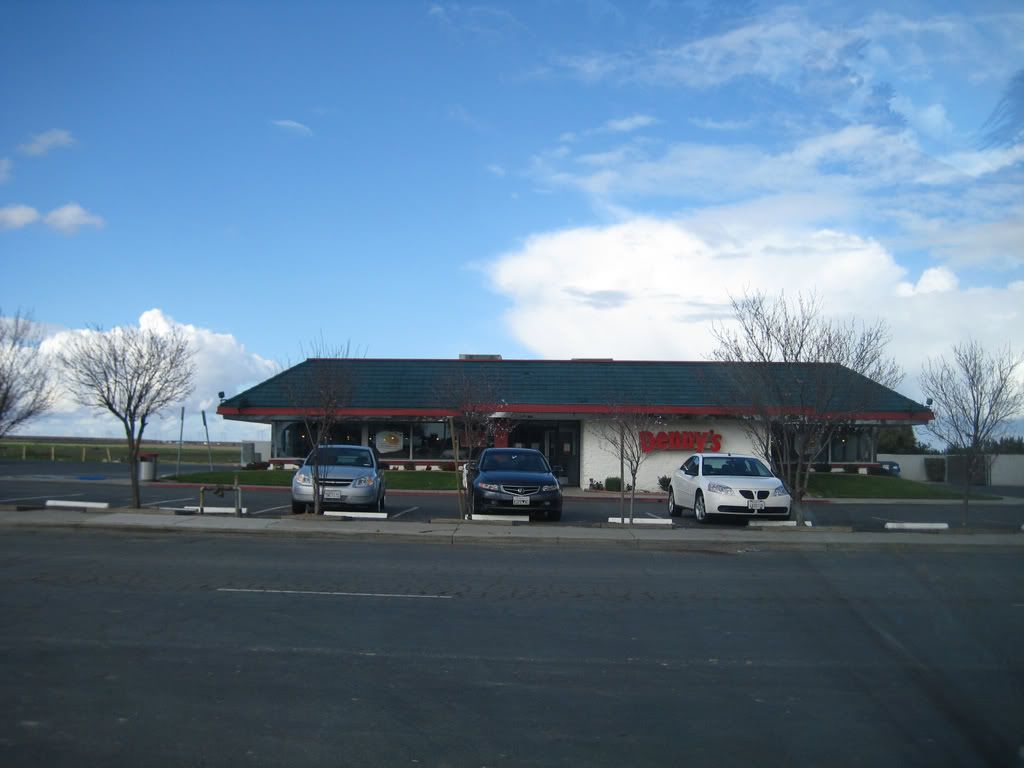 (Sorry D - but you've been off-island too long now. Let me put it this way - 24 hour breakfast. Hell, 24 hour anything!)

The weather continued to hold and I just had more miles and miles of this: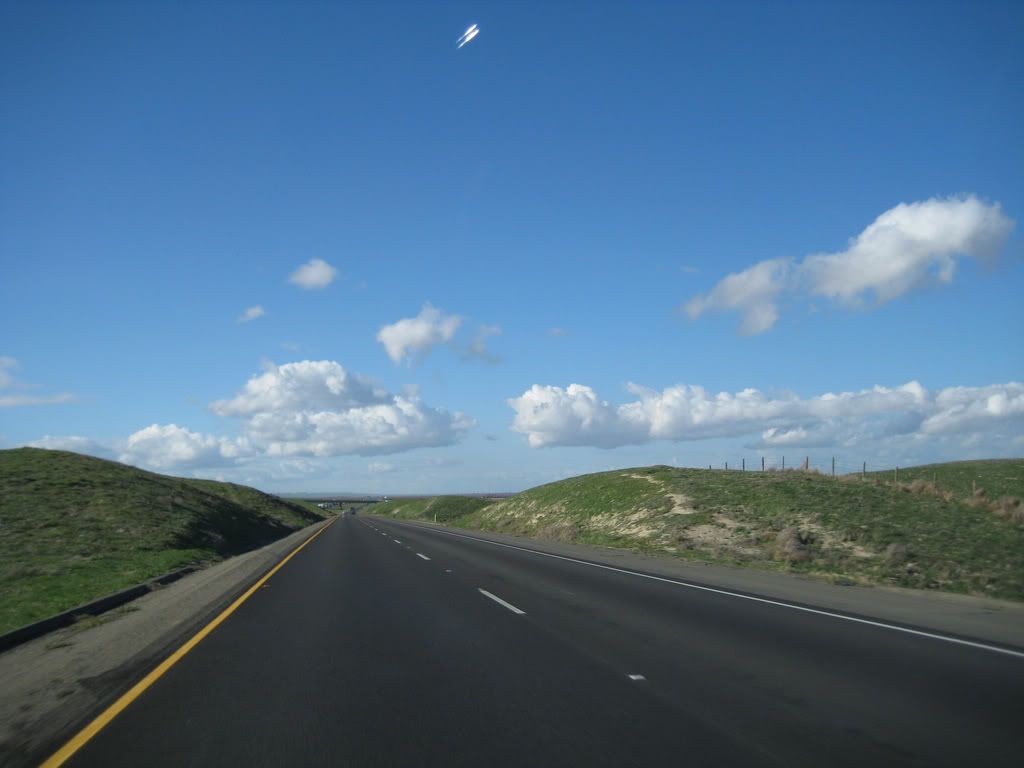 All the way up the I5, to the 152, to the 101. You should, however, be grateful that I can only share pictures and not smells. Because the last leg of my trip took me through Gilroy, the
ahem
, "Garlic Capital of the World". I drove right past Gilroy Food Products and I'm tellin' you - the air just reeked of garlic. Can you imagine working there, never mind just living nearby? Wowzer.
I know there was lunar eclipse on Wednesday night and I had some faint hope of getting to my hotel and getting settled in time to watch it, but I missed it. When I finally exited the last piece of freeway and landed on surface streets again, I quickly found an even more special, and miraculous sight. I spotted a dim green sign for my hotel, but just below it, shining like a a beacon of hope at the end of a long tunnel: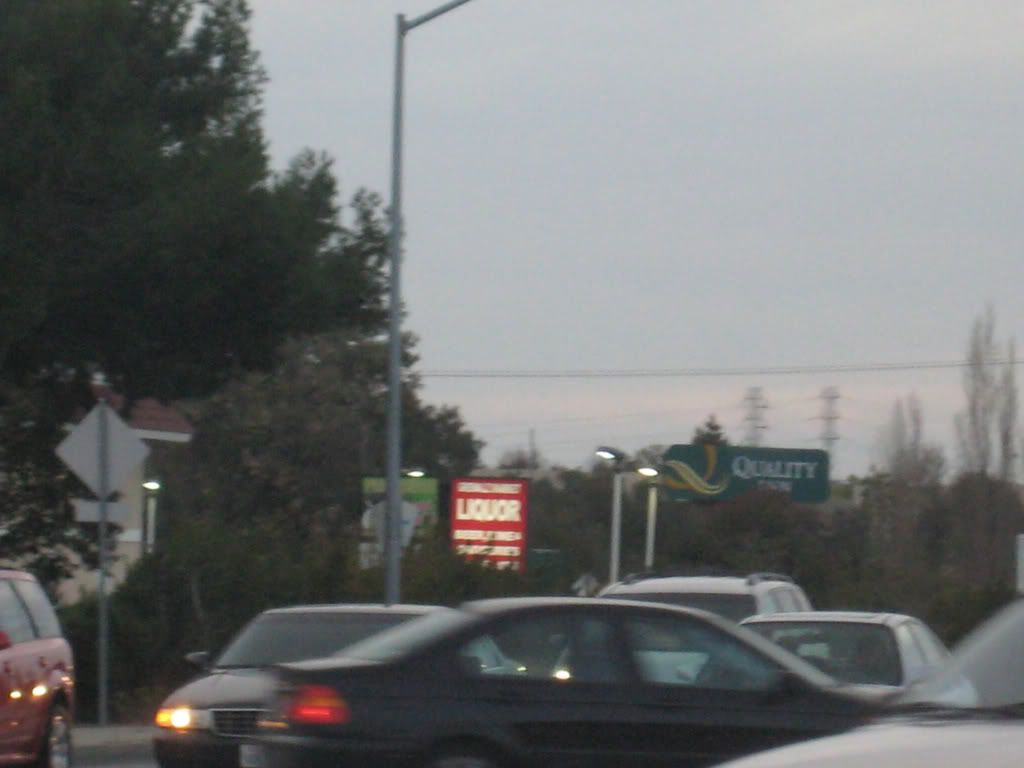 Oh yes, that's what I'm talkin about. Purely for medicinal purposes, of course. And if you want to know what happened next - just click back to yesterday's post!
Psssst...Here's all the pics, including less-than lovely outtakes and my hotel room, if you really wanna see it all!