Yesterday I was still fairly wiped from the drive so I lingered in my hotel room until lunch time and then cruised over to Stitches West to pick up my registration packet.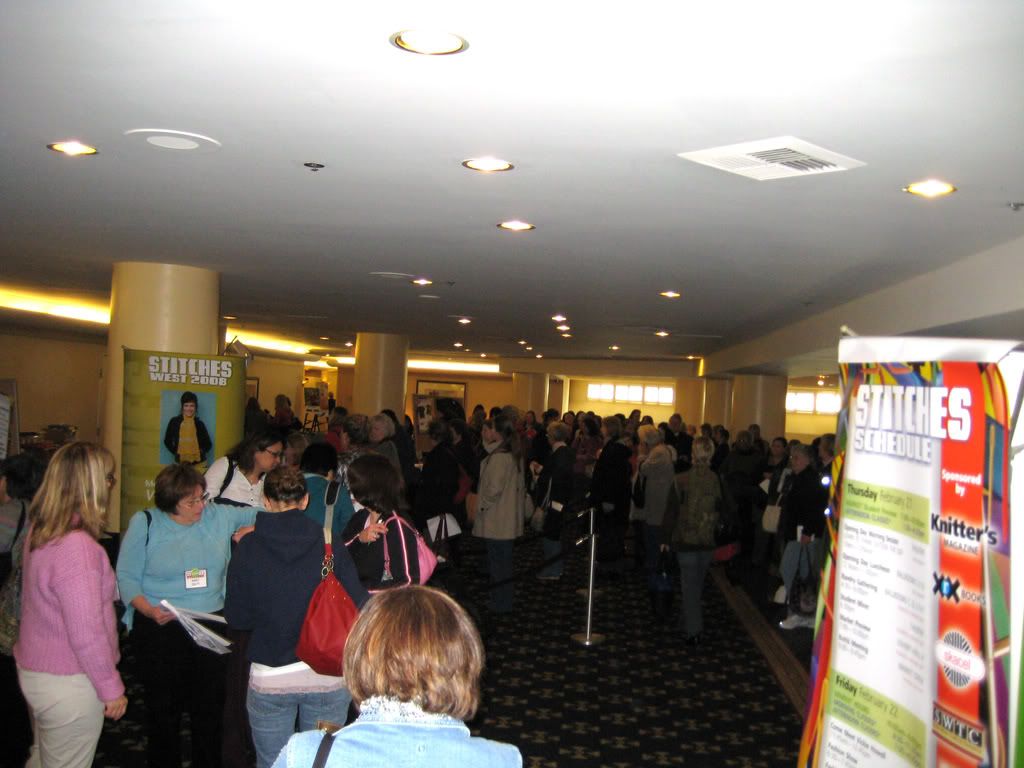 That dark, densely packed mass of bodies filling the photo? Knitters as far as the eye can see. The place was lousy with 'em. Knitters on the escalators, in the elevators, and on the stairs. Knitters sitting, standing, and walking. Knitters on cell phones and knitters on computers. Knitters in the coffeeshop, in the restaurant, and in the bar.
(At noon.)
And in my tiny, ever so limited world, that is the most knitters I have ever seen in one place. And suddenly, I blend.
I went to my first class, with the nauseatingly cute title, "Now I Can Crochet Too!", and taught by Barbara Kerr. Well, during the class I did this: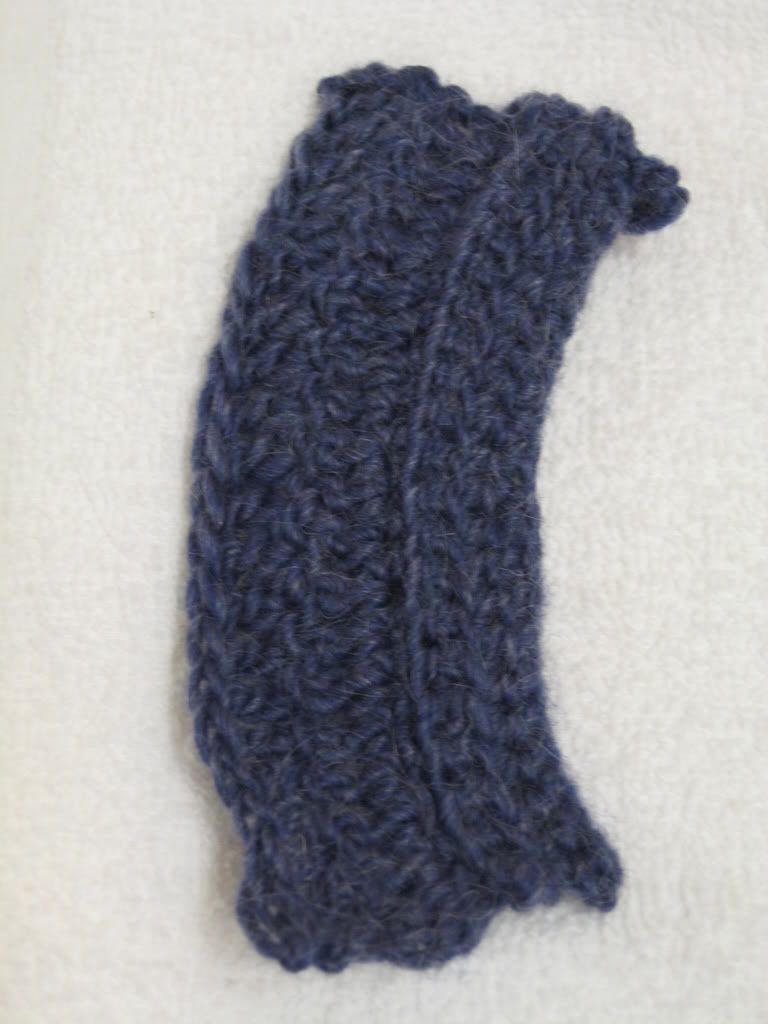 That's my little test swatch, learning the stitches.
(Yes, I know it curves. Partway through it was determined that I should actually be using the next larger size hook.)

But now I can do this:
Although I'm not sure what one does with Granny Squares other than make afghans. But a search of Ravelry may turn up other possibilities.
And before the end of class I also learned how to do this: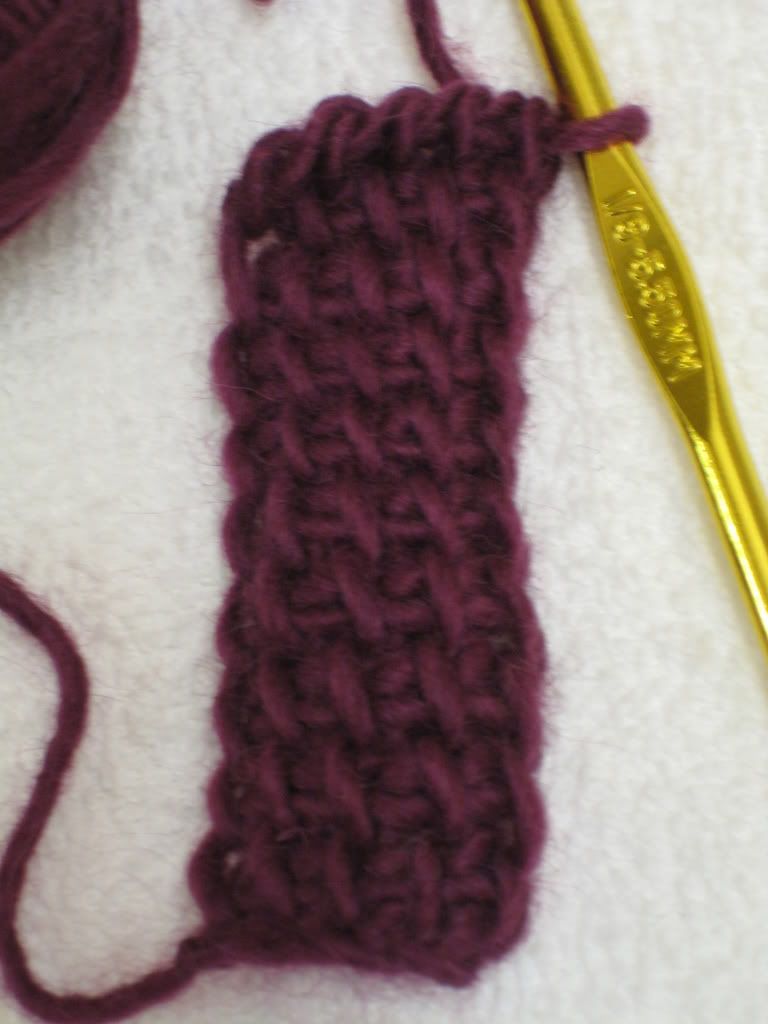 I like this Tunisian crochet stitch, it makes a very nice fabric. I'll definitely be looking into what can be done with this, and I'm open to suggestions!
After my class, I had a little downtime to grab a bite to eat and then the Ravelry Meetup started. Did I say there were a lot of knitters?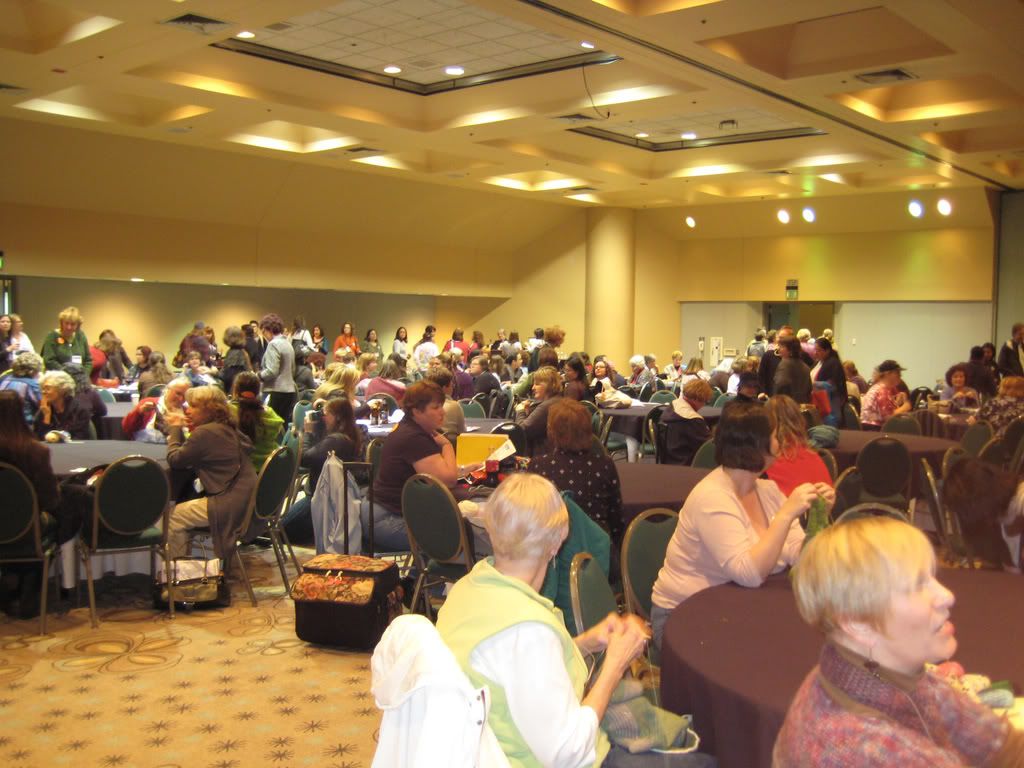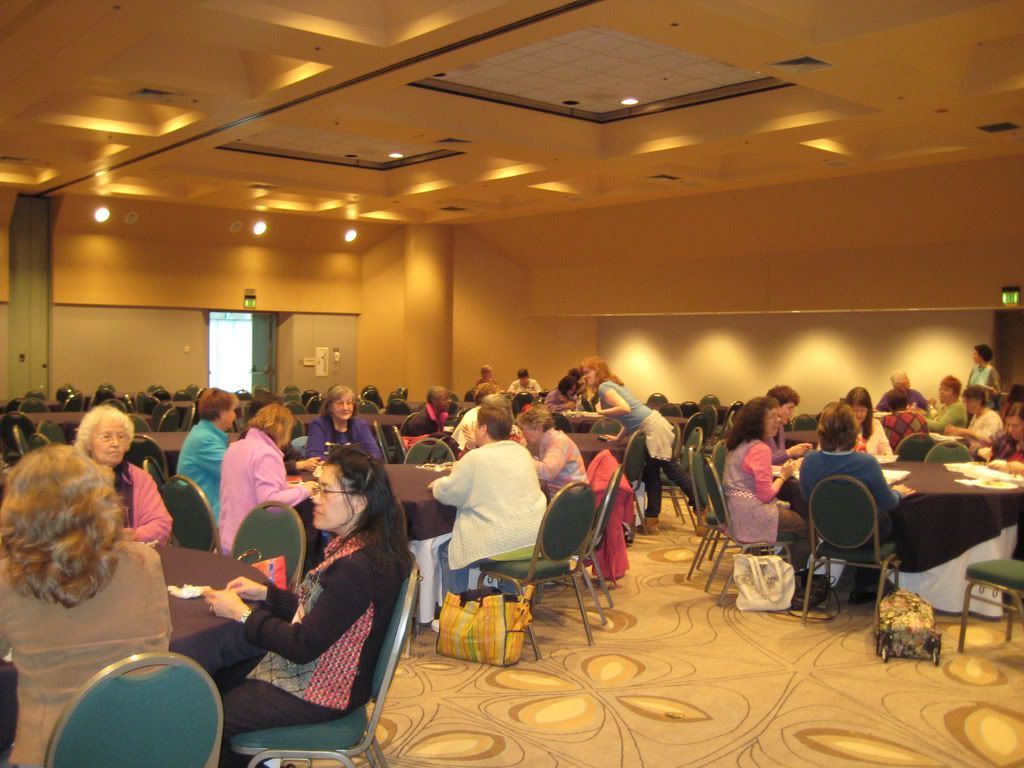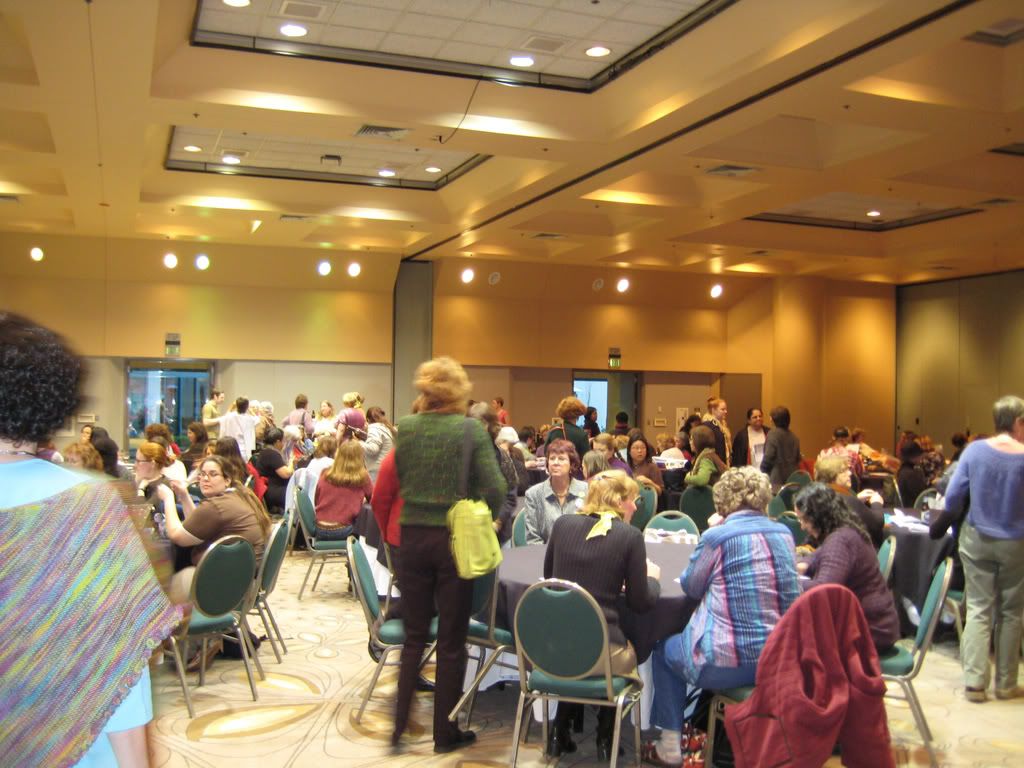 Dude. Now that's a lot of knitters.
I deliberately didn't schedule any classes for today, I wanted to just take the whole day for the exploring the Market at my own pace and be free to do whatever I wanted whenever I wanted. However, because of this:
I can't show you any pictures of what I saw in there! All I can offer is this one tiny little glimpse: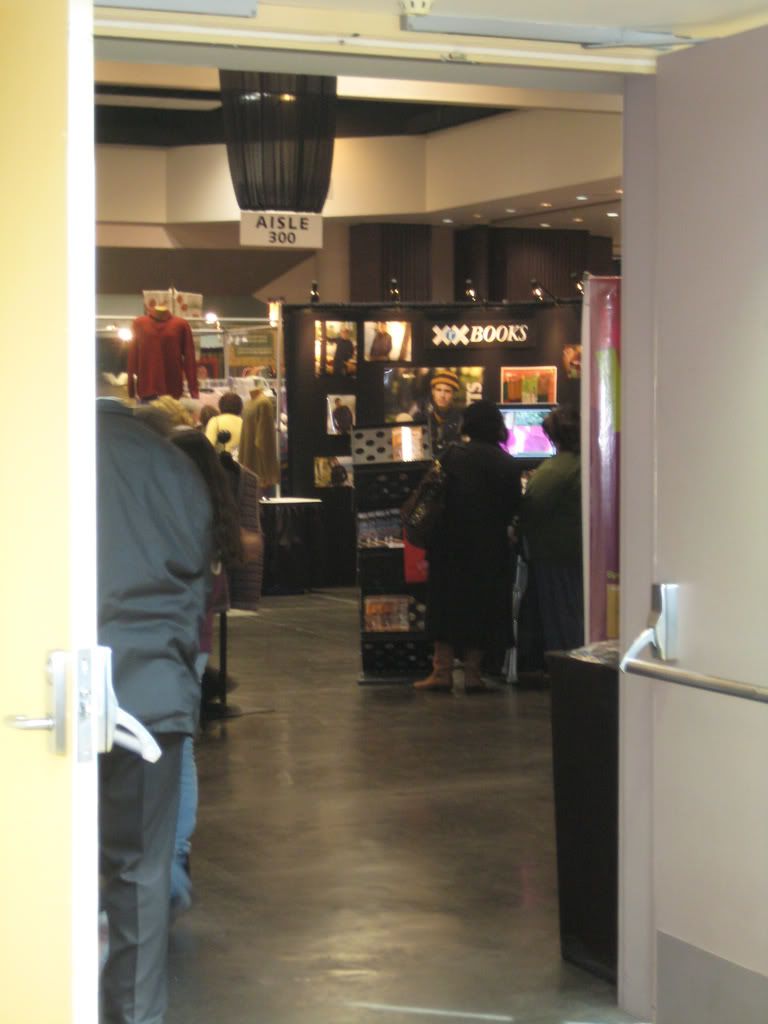 I know, it's just such a tease! But this is what I left with: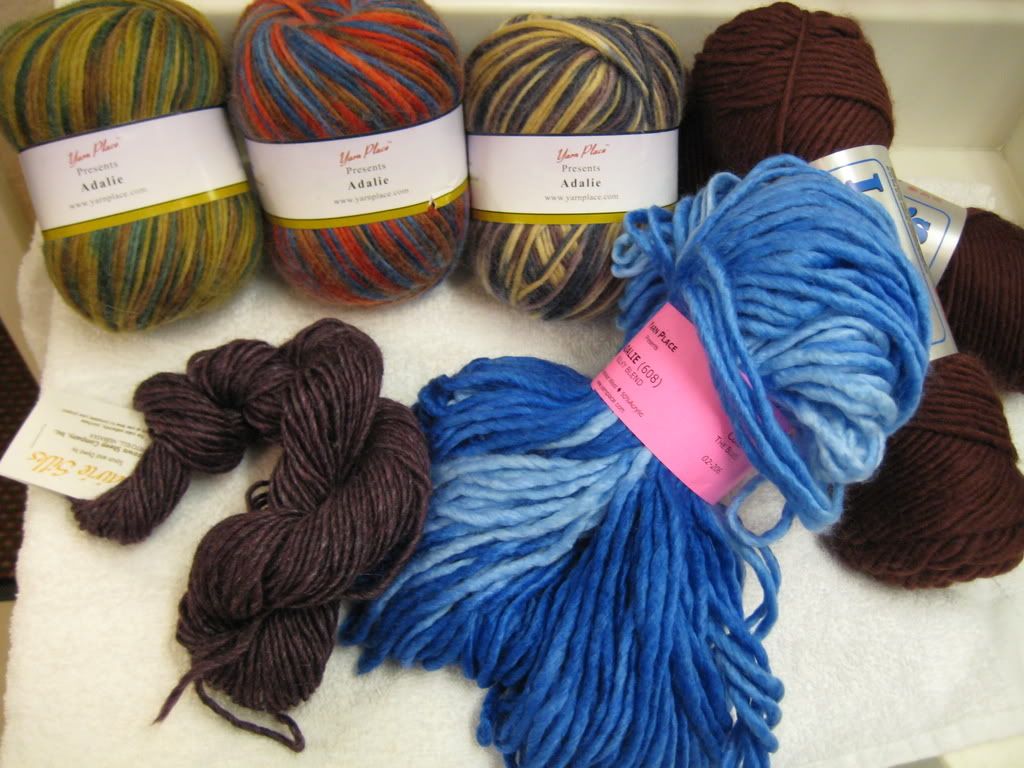 Mmmm...My love for the single ply continues. That's three different coloways of Yarn Place's
worsted weight Adalie
and one of the
Bulky Adalie
.
(Which at $8 a skein seemed like very reasonable alternative to Blue Moon Fiber's Leticia!)
I just had to try a skein of Brown Sheep's
Prairie Silks
, and really - $5
LP Bulky
? Who could say no?